Picture this: you've been walking around Universal Orlando enjoying the rides, doing a bit of shopping, and visiting all the incredible attractions, all while hopefully indulging in the delicious food the park has to offer. What's next? Dessert, anyone? 
There's no way you can leave without trying some of the melt-in-your-mouth desserts at Universal Orlando's best restaurants. That would be like leaving the park without hopping on any of the rides —  outrageous! Seeing as the theme park is known for its extravagant, amusing attractions, some visitors are unaware of how equally phenomenal the sweets are that are offered at many of the park's food spots. 
To put a cherry on top, below you can find some of the best places to eat dessert at Universal Orlando. If your stay allows for it, you should do your best to try the sweets at all four of these spots– your taste buds won't be disappointed!
The 4 Best Places to Eat Dessert at Universal Orlando
Voodoo Doughnut 
First stop: Voodoo Doughnut. The name says it all! You will find yourself under a magical spell after just one bite of these visually appealing and incredibly tasty donuts. Here you can find every type of donut you could imagine — from traditional, simple donuts to over the top donuts decorated with cereal and other extravagant toppings.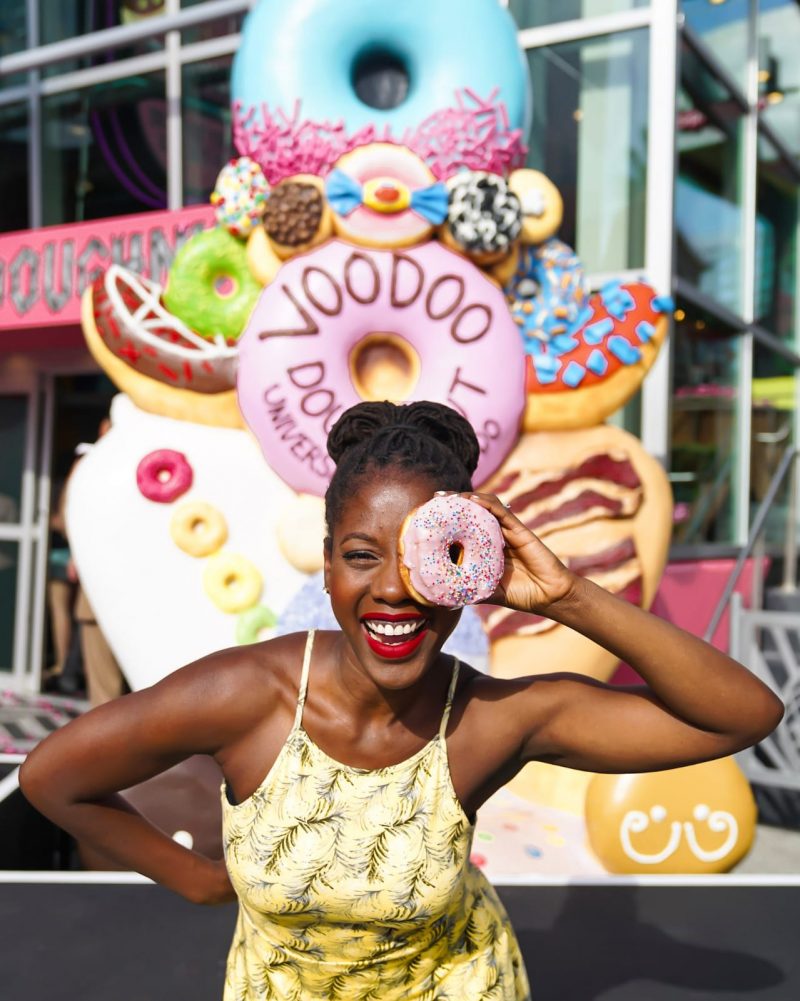 One of the many great things about this spot is that it offers vegan options for those who would prefer a vegan treat. If you're looking to go all in, try one (or all) of the shop's iconic donuts, including the Portland Cream or the Bacon Maple Bar. Whether you're daring or like to play it safe, Voodoo Doughnut has something you'll love, making it one of the best places to eat dessert at Universal Orlando.
Toothsome Chocolate Emporium & Savory Feast Kitchen 
This enchanting restaurant is one of Universal Orlando's best restaurants, not just because of the delectable food served, but because of the even more tempting desserts on the menu. After seeing the smokestacks and impressive gadgets that complement the restaurant's factory-like appearance, it comes as no surprise that the emporium serves up equally sumptuous desserts.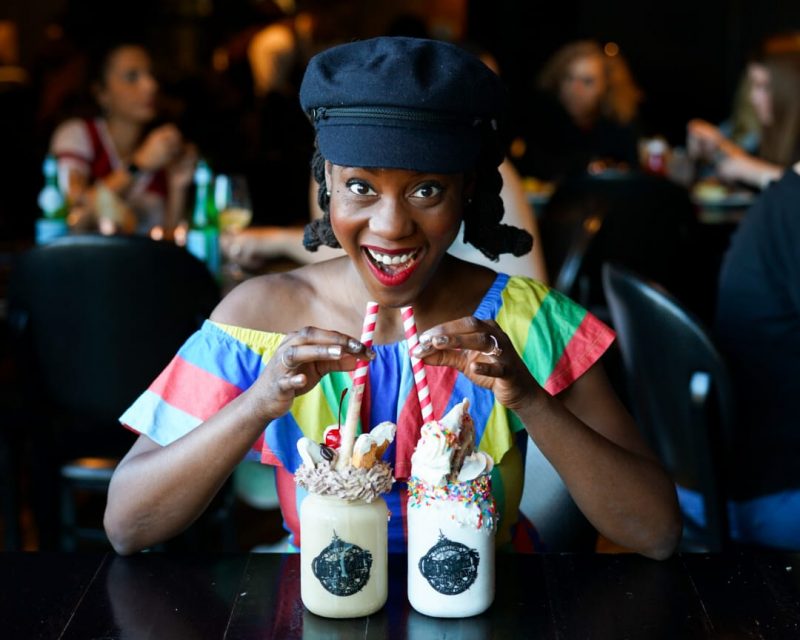 Although all of the desserts are amazing, if you're looking for a good photo op, you must order one of the restaurant's mouthwatering milkshakes! Pick from over 10 specialty flavours including Toothsome's popular Confetti or Red Velvet shakes. All of the milkshakes come in a Toothsome mason jar and are decorated beyond measure with incredible toppings- making them not only one of the must eat foods at Universal Orlando but also one of its most picture-worthy treats. 
Koka Poroka Ice Cream Stand at Volcano Bay 
If you're an ice cream person, look no further! The Koka Poroka ice cream stand is the place to go if you're looking for a cold treat while visiting Universal Orlando. The laid-back, tropical vibe at Volcano Bay is enough to make you love the park, so pair that with the sweet ice cream at Koka Poroka and you'll never want to leave. 
For those of you who like to build your own cone (or cup), you can choose from nearly 10 different flavors including chocolate, mango, and coconut. After that, take your pick from some of the stand's many toppings like whipped cream and rainbow sprinkles! If you prefer sundaes, Koko Poroka has got you covered– with a few different sundae options on the menu. The fan favorite, however, is the park's infamous Waturi Fusion ice cream cone. The cone is topped with 4 different soft serve flavors: blue raspberry, strawberry, orange, and banana. The bright colors from each of the flavors create the unique appearance of a rainbow swirl, which is what makes the cone another one of the must eat foods at Universal Orlando. 
Butter Beer in Diagon Alley and The Wizarding World of Harry Potter
The magical world of Harry Potter is home to butterbeer: the sweet, rich, and highly enjoyable drink made popular by the HP novels and films! Butterbeer is considered to be one of the best desserts at Universal Orlando, and chances are, even if you've never watched the Harry Potter movies or read the books, you've still heard of it.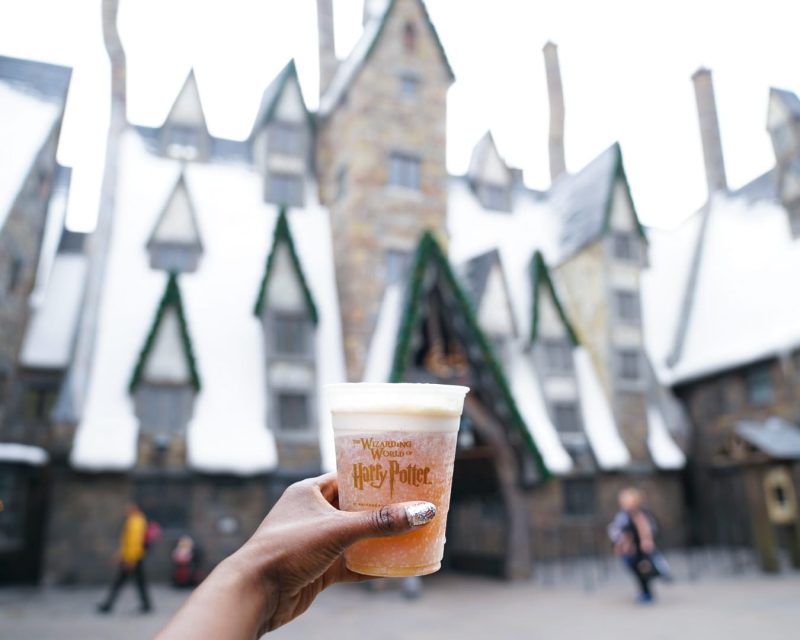 That's because many people take a trip to Universal Orlando just to visit The Wizarding World of Harry Potter and try the hallowed drink referenced in the fictional books.  Don't be fooled by the word "beer": this beverage is actually non-alcoholic and combines the flavours of butterscotch and cream soda to create a thick, frothy drink that everyone will love. There are also loads of options for how to consume it:  you can choose to have it hot, cold, frozen, or even as ice cream, potted cream, or fudge.
Find this glorious dessert in Hogsmeade at the butterbeer street carts, at The Three Broomsticks restaurant, and at The Leaky Cauldron and The Fountain of Fair Fortune in Diagon Alley! 
The takeaway: Universal Orlando has the best desserts ever!
When visiting the theme park, don't think twice about indulging in some of the sweets it has to offer. No matter what type of treats you're into, the 4 spots have some of the best desserts at Universal Orlando and are guaranteed to make you want to go back for more!