An examination of the Dutch holiday Sinterklaas, and my reasons for saying that the use of blackface for Zwarte Piet is racist and wrong. 
Nothing says Christmas like chestnuts roasting on an open fire, reindeers with red noses, and… BLACKFACE?!
Every year I am disgusted by holiday celebrations that take place every December in the Netherlands, in which locals literally paint their faces black in order to depict "Zwarte Piet", the fictional companion of Sint-Nicolaas (Santa Claus is largely based on this character).
This might tick my Dutch friends off, but it needs to be said: the current iteration of Zwarte Piet is RACIST and WRONG. I discuss why and provide more context in my new video.
But I'm shocked that in 2016 we're still having this conversation. BLACK PEOPLE ARE NOT COSTUMES. WE ARE NOT HERE FOR YOUR AMUSEMENT. BLACKFACE IS NEVER OKAY.
Have you ever seen or heard about this? What are your thoughts? Do you think Zwarte Piet is racist? Or do you think the use of blackface in this context is okay?
Anyone who knows me well knows that I am super passionate about educating others about the socio-political aspects of travel.
I make these videos and write these blogs to initiate dialogue and encourage others to seek other perspectives.
So please, if you're feeling this video (and even if you're not!) I would appreciate it if you like and share, especially with your Dutch friends, and make sure you subscribe to my Youtube channel. Let's discuss!
************************
I first debuted this video on Facebook, and the response has been very mixed.  I got a number of comments that respectfully dissected my assessment of this practice, but I also got a great deal of vitriolic comments that were extremely inappropriate.  Some disgruntled people called ME racist for saying that Zwarte Piet is racist.
Amongst those comments, I had a good number Dutch people citing that Sinterklaas has absolutely nothing to do with Christmas. Quite respectfully, I would tend to disagree, and here's my reasons as to why:
ABOUT THE DIFFERENCES/SIMILARITIES BETWEEN SINT-NICOLAS/SINTERKLAAS AND SANTA CLAUS/ CHRISTMAS:
"As I found in my research, the North American figure of Santa Claus is heavily based on the Dutch figure of Sinterklaas.
And before you ask, yup, I'm fully aware that the feast of St. Nick is on December 6 (that's exactly why I put out the video a couple days ago, *wink wink*), and that the Kerstman figure is more similar (at least in appearance) to Santa Claus.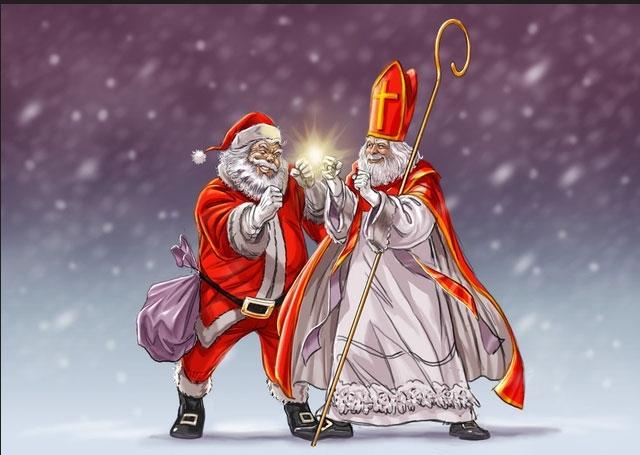 For the purpose of brevity (and also because these details have absolutely NO bearing on the use of Blackface by those who portray the Zwarte Piet character) I chose not to include that nuance in my video.
We could speak all day about the nuances between Santa Claus, St. Nicholas, St. Nick, Kris Kringle, and Father Christmas, but as those nuances were not central to my argument and the thrust of the video, I did not include them.
Again, I repeat, the differences/similarities between Dutch and North American Sinterklaas/Christmas have absolutely nothing to do with the point of my video, which was to call out the use of Blackface.
And, in my opinion, continually citing that Sinterklaas has nothing to do with Christmas means either that you:
1) Missed the point of the video completely or
2) Are deliberately trying to derail the conversation at hand. Which, once again, is about Blackface and how, though it is "tradition", is considered to be wholly inappropriate and harmful to certain segments of the population.
But, with that said, I'm open to discussing why I related Sinterklaas and Santa Claus/Christmas/Kerstman.
In my eyes, the spirit is the same: all are figures that derived/are linked to St. Nicholas, who is the patron saint of children.
They all, in some way or another, give gifts, and they all are accompanied by helpers (Santa by his elves, Sinterklaas by Zwarte Pieten).
That Sinterklaas comes in from a boat from Spain in mid-November, or Santa Claus from the North Pole on a sleigh with reindeer at the end of December, the spirit is the same.
Whether Sinterklaas gives little Dutch boys and girls presents on December 5 or Santa Claus gives little North American boys and girls presents on December 25, guess what? The spirit is still the same. Gift giving. Children. A central figure who comes from afar to distribute gifts and spread cheer.
We're not talking apples and oranges here. And even if we were, whether Sinterklaas is or isn't Christmas is completely IRRELEVANT to the discussion at hand, which is the use of BLACKFACE.
Traditions die hard. I understand that. Having "an outsider" call out a practice that you hold dear can feel like an affront. I understand that. But if your initial reaction to respectful and polite discussion is anger and resorting to name-calling… then you may want to examine why you are so incensed.
I made this video to welcome discussion and most definitely welcome debate and dissent (which is why in the video I appealed to Dutch people to speak up and out).
Thanks everybody!"
What are your views on this phenomenon? Do you think Zwarte Piet is racist? Regardless of your feelings about blackface, do you think it's wrong for an "outsider" to speak up cultural traditions that are not their own?