Is Universal Orlando fun for adults?  It sure is! Here's why I think grown ups should plan a visit without the kids, plus some tips so it's the best vacation ever.
Picture this: it was one of those beautiful Central Florida days where the temperature was just right– not too hot, not too cold, not too humid or breezy. Basically, perfect weather for visiting Universal Orlando's theme parks.
The girl sighed with contentment as the sun dappled her chin. Her eyes were bright; the pupils slightly dilated as she brought the cotton candy to her lips.
The confection was so massive that it dwarfed her small hand. Her slight fingers were barely visible beneath the sugary pink cloud, and a bit of it had already melted onto her baby doll top.
Undaunted, she took a huge bite, letting off an explosion of flavour in her mouth. Her chipmunk cheeks became even more cherubic as she giggled in glee.
Music, colour, and joy swirled around her; the grounds of Universal Studios Orlando were abuzz with activity. The young lady surveyed the scene and beamed. She couldn't wait to hit up the Dr. Seuss Character Zone, explore Hogsmeade, hang with Hello Kitty–
— This is probably an appropriate place to stop and mention that the girl I'm describing?  It was me during my visit to Universal Studios back in January. * ahem*
Yup, I did a vacation at Universal Orlando without kids!
Because while amusement parks have long thought to be a haven for the young 'uns , it turns out that there's no age limit for child-like wonder. I discovered first hand that visiting Universal Orlando isn't restricted to families or those with children in tow– it's a great getaway for adults as well!
Universal Orlando for grown-ups: Why you should plan an adults-only trip
Have you heard the news? I'm an ambassador for Universal Orlando this year (read my announcement post here), which not only means I'll be visiting their theme parks a few times in 2018, but that I'll also be sharing my experiences with you all.
If you're wondering why I'm referring to it as Universal Orlando and not Universal Studios, it's because the complex is actually made up of three connected theme parks:
Universal Studios Florida
Universal's Islands of Adventure
Universal's Volcano Bay
Each one has their own features and attractions.  When I went down in January, I spent most of my time at the first two.
But I digress.  Amongst all the congratulations for my new (sweet!) gig, I received a few puzzled queries as to why an adult with no children would be a spokesperson for the brand.  Given that we're socialized to believe that amusement parks like Universal Orlando are strictly for kids, I understand the disconnect.
Is Universal Orlando fun for adults?  It sure is! Adults absolutely can and should think about visiting Universal Orlando without kids, for the reasons I've outlined below:
The theme parks have thrilling rides and attractions only adults can truly appreciate
Y'all… The roller coasters at Universal Orlando are NOT for the faint of heart; even the most courageous of grown-ups are sure to feel their heart flutter in their chest.  Despite my fear of heights and proclivity for motion sickness, I still tackled the feat of nature that is the Incredible Hulk Coaster (foolish or nah?)
While I managed not to lose my lunch, with its SEVEN loops and speeds of up to 67 miles per hour, I had my edges duly snatched! (Note to self: make sure to bring Jamaican Black Castor Oil next time to care for aforementioned snatched edges).
Besides the rollercoasters, there are thrilling and well-crafted 3D and 4D attractions at Universal Orlando that only an adult can appreciate.
For example, I couldn't help oohing and aahing at the level of detail and technology that went into rides like "Skull Island: Reign of Kong" (located at Islands of Adventure) and "Harry Potter and the Forbidden Journey" (found at Universal Studios). The action was so jaw-droppingly life-like that the hairs stood up on the back of my neck.
Trust me, both attractions will leave you spellbound, even if you're not "into" Potter or Kong (I've never seen any of the movies or read any of the books *gasp*).
There are great restaurants with decidedly grown up fare
If you envisioned yourself subsisting on kiddie combos chock full of fries and chicken fingers you'd be wrong (though #NoJudgement if that's your thing).  As it turns out, there are loads of adult-friendly dining options situated throughout the complex.
For example, I had the pleasure of eating at Mythos, the award-winning fine-dining restaurant serving up a mix of Mediterranean, Asian, and American fare.  And on my last night in Orlando, I dined on frutti di mare and pollo saltimbocca at the highly-rated  Mama Della's, an Italian restaurant found onsite.  #badandbougie
Visiting the park without kids may just be the best thing that's ever happened to your stomach.
Visiting Universal Orlando as an adult means taking a walk down memory lane
Visiting Universal Orlando gave me all the feels for the most unexpected reason: an overwhelming sense of nostalgia.  From meandering through the Dr. Seuss Character zone, to taking selfies in front of Krustyland and Moe's Diner, my visit transported me back to my childhood– a time when "The Cat in the Hat" was required reading and watching The Simpsons was a nightly staple (sigh!) I even got to fulfill some latent childhood desires when I got to chat with Hello Kitty and meet a raptor from Jurassic Park.  It was a great reminder of the simple, carefree existence I led when I was but a little grasshopper.
Universal Orlando's nightlife is on and popping
Dubbed the "Epicenter of Awesome",  Universal Orlando's Citywalk is a hopping place for, *ahem*, mature entertainment.  It's also a great opportunity to let loose without kids present, for after the sun goes down and the babies go beddy-bye, venues like the Red Coconut Club and The Groove are prime spots for imbibing or shaking ya tail-feather.  Because I was boring super tired I didn't get to experience the nightlife for myself when I was there in January, but am looking forward to sampling the goods upon my next visit!
Loads of wellness activities for adults mean a vacation "well" spent
(without the kids!)
Would you believe that there are a number of wellness offerings at Universal Orlando's onsite hotels?  They include in-room yoga at the Hard Rock Hotel and the plethora of treatments available at the Mandara Spa inside Loews Portofino Hotel.  Sadly, I haven't had the chance to indulge in either… yet.  Stay tuned for my upcoming reviews!
Tips for Planning an adults-only trip to Universal Orlando
I would be remiss if I didn't mention these quick tips for planning a vacation to Universal Orlando without the kids– you'll thank me later.
 -Don't go during the holidays.  Want tranquility, peace of mind, and a holiday relatively devoid of little humans?  Travelling off-peak and avoiding visits during school breaks is key.
-Think about getting line bypass.  Save yourself the hassle of waiting in line and consider getting an express pass so you can skip to the front.
-Make reservations in advance. There's nothing more annoying than realizing that restaurant you were dying to try is all booked up! Reserve your tables at least a day before you're thinking of going.
The Takeaway: Visiting Universal Orlando isn't only for kids
So, is Universal Orlando good for grown-ups? Should you plan a trip to Universal Orlando without the kids?  In my mind, the answer is clear.  Vacationing at Universal Orlando's resorts is not only a suitable option for an adults-only holiday, it's a fantastic one. After all, fun and wonder have no age limits, so let your hair down with a grown-up getaway to Universal Orlando.
However, don't be surprised if your visit unleashes the wondrous child within, and you end up stuffing yourself with all the cotton candy like I did. *wink*.
Have you ever visited Universal Orlando or any other theme park?  Would you consider taking an adults-only trip there (without the kids if you have them)? Why or why not?
Pin on Pinterest!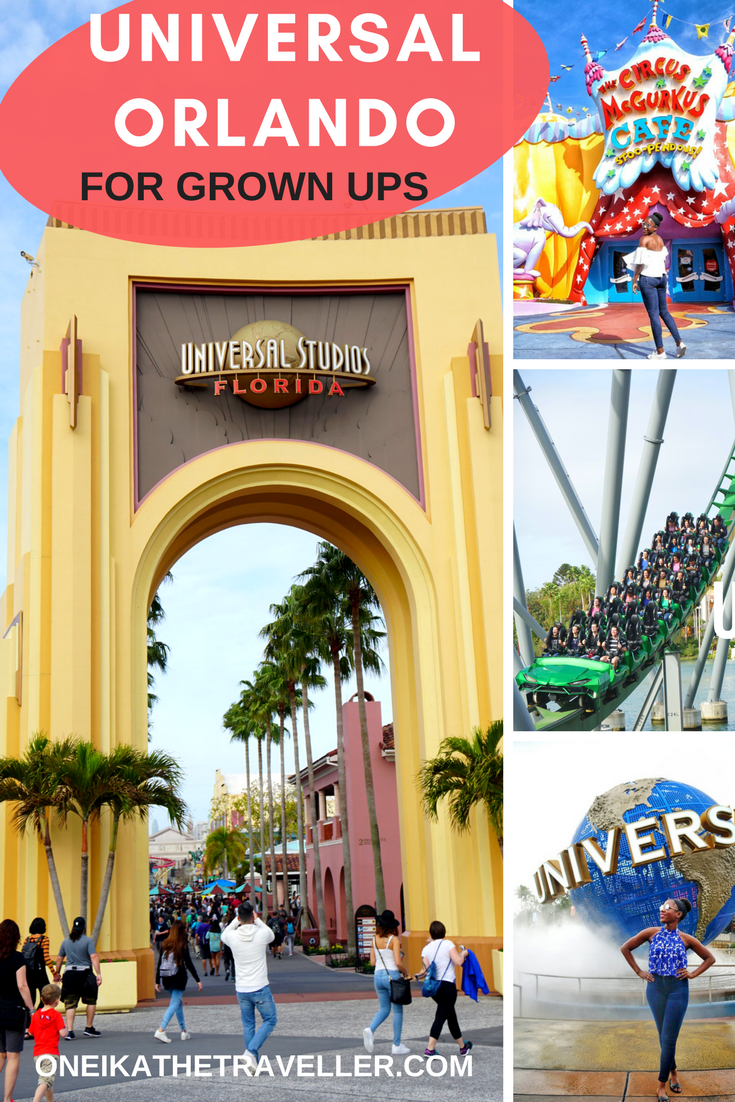 The post was produced in partnership with Universal Orlando, for whom I'm a proud ambassador! All opinions and sticky-fingered cotton candy pics are mine and mine alone.