I got MY WHOLE LIFE during my visit to Marrakesh (also widely known as Marrakech), Morocco this summer.  Here's my guide with essential tips so you can do the same!
If you've been keeping up with my adventures on Instagram, you'll know that I recently spent 5 days in Marrakesh (also spelled Marrakech), Morocco and had the most amazing time (note: I'll be using both spellings throughout this article).
If I had to sum up my trip to Marrakech in one word, it would be magical.  But that would be unfair– a single word just can't do the city justice.
For Marrakech is so many things.
It's colourful: there are hueful markets filled to the brim with leather goods, textiles, and bric a brac.
It's slightly chaotic: steady streams of motorbikes whizz past you with such close proximity it's a miracle you escape with all your appendages still intact.
It's also charming: vendors in the medina call out "bonjour" as you walk past their shop and invite you to stick around for a mint tea even after they've made a sale; stray kittens scuttle across the street when your shadow darkens their path; strains of traditional music perfume the air.
And let's not forget that the city is not only photogenic as all get out, but is also a bastion of history– it's crowded with structures as old as time itself.
Why you should visit Marrakech, Morocco
This was my third visit to Marrakech after a long time away.  I first travelled to Morocco way back in 2004,  starting in Tangier, then moving on to the blue city of Chefchaoen before arriving in Marrakech. My second time in the country, in 2006, I did nearly exactly the same itinerary with the exception of an additional stop in Fez.
On both trips I fell hard and fast for Marrakech, for all the reasons I noted in my opening paragraphs.  Given this, I highly recommend a visit.
Why else should you go Marrakesh? For starters, it's a value destination– you can truly ball on a budget here (example: four-star accommodation can be had for as little as $60 USD a night and you can eat a full meal in nice restaurants for under $10 USD).  Secondly, it's fairly easy and cheap to get to (my mother and I flew in from Paris for under $200 USD round trip each) and get around in (apart from Arabic, English and French are widely spoken there).
Marrakesh is also traditional, yet cosmopolitan, which my mom and I loved.  There are loads of things to do in town and it is extremely easy to navigate.  For this reason, Marrakesh was the perfect location for our annual mother – daughter trip.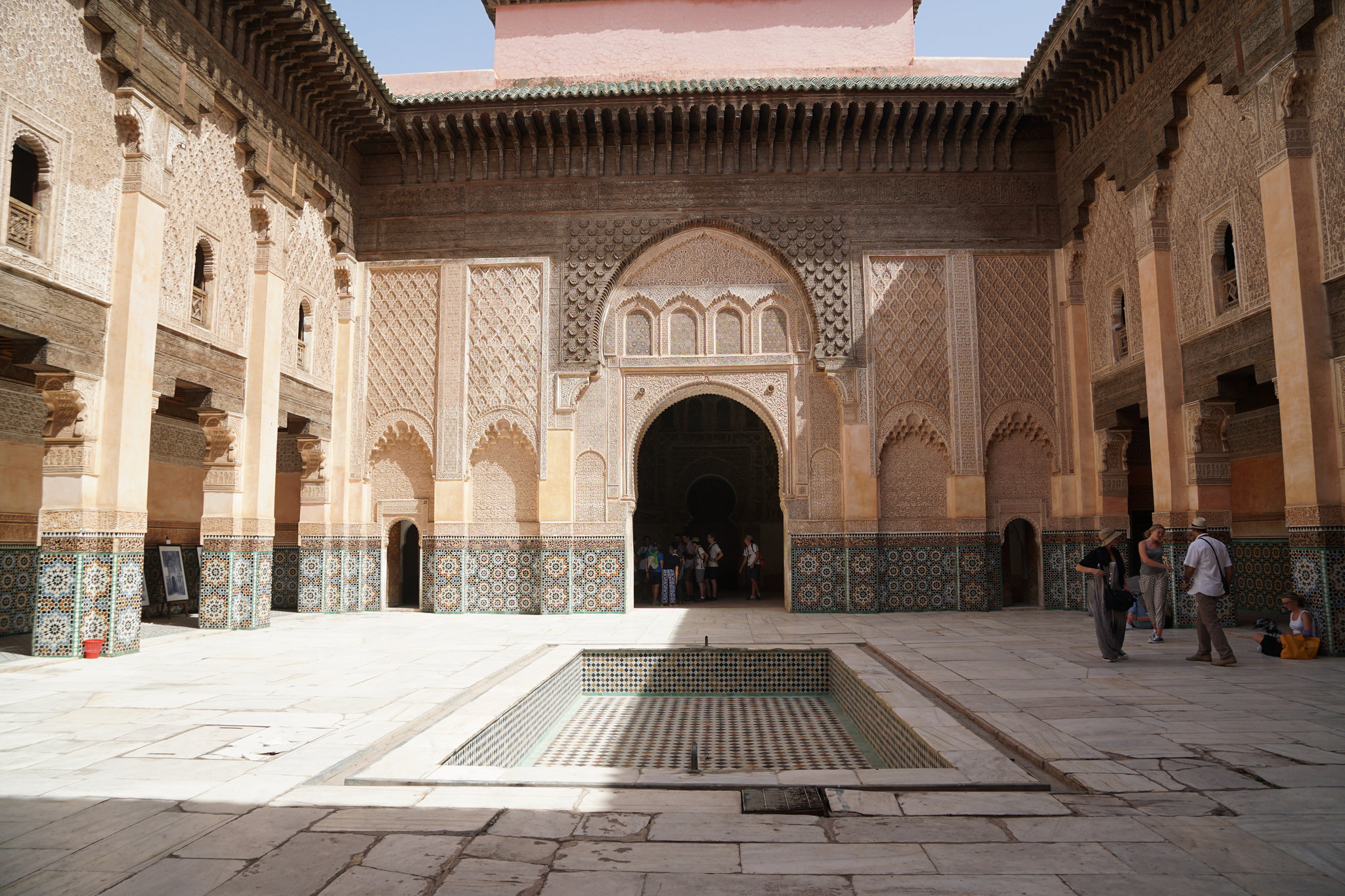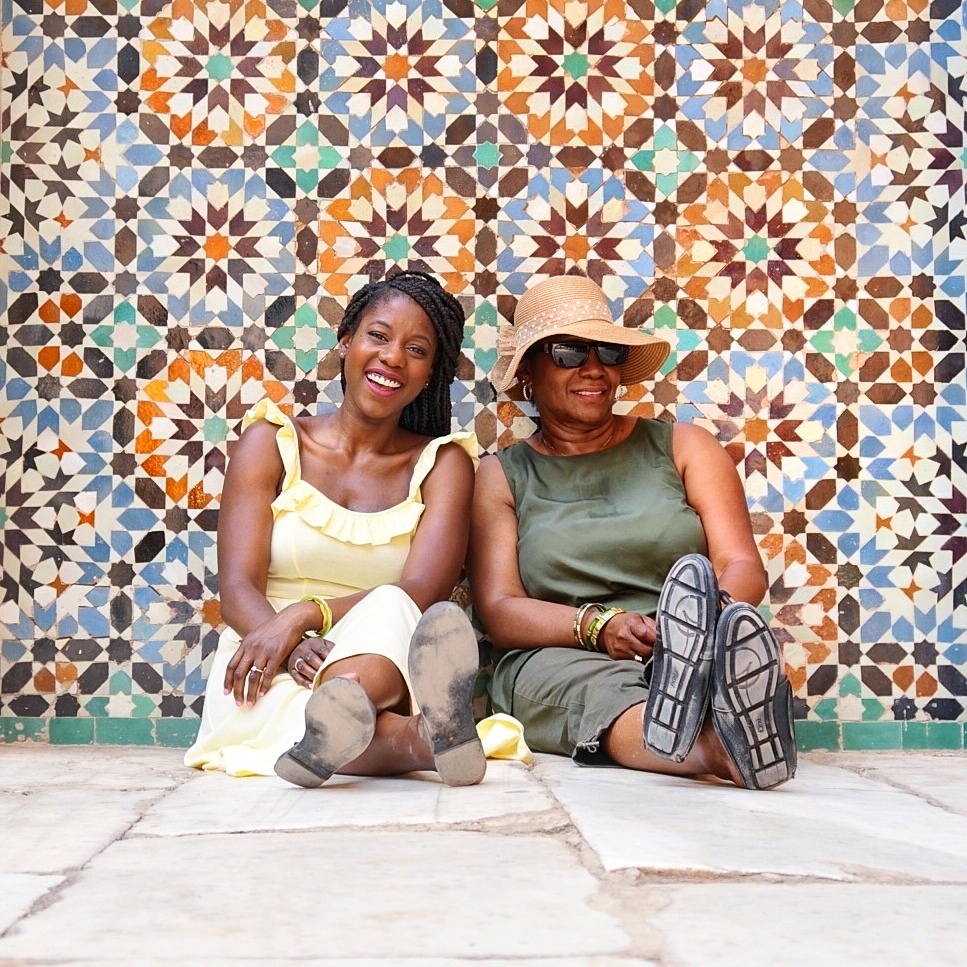 I'm rambling, but basically, I got my WHOLE LIFE there (and have the photos to prove it).! Without any further ado, here's my guide for how to spend a week in Marrakech, Morocco.
What to see and do in Marrakech, Morocco
Explore Djemaa-al-Fna.  This is the main square and market place of Marrakech and a whirring hub of activity.  Found in Marrakech's old town, this is not only a place of commerce, but also a great place to observe and people watch. Amongst the hawkers, there are also snake charmers, performers galore, and women doing henna. Since the sun is brutal during the summer months and there's absolutely no cover, I recommend hitting the square up after sunset– this is a great thing to do in Marrakech at night. Shopping in the medina is also a treat.  Stay tuned for a future blog post showing what I picked up!
Do a Marrakech Food Tour with Maroc Mama. This was an absolute highlight.  The tour was about four hours and took us to loads of places in and around the medina we never would have found on our own.  There was a wide range of foods with HUGE portions (after the 2nd stop I was stuffed).  The small group tour is run by fellow blogger Amanda (aka Maroc Mama) and her lovely husband Youssef.  As $65 USD/pp you may find it pricey, but considering the length, the amount of food, and the guide/info/history it's totally worth it. See here for more info!
Visit Jardin Majorelle.  Once the passion project of French painter Jacques Majorelle (who spent forty years building it), this house and garden complex was purchased by famous fashion designer Yves Saint Laurent in the 1980s.  This beautiful venue is now one of the most visited (and photographed!) sights in all of Marrakech.  Going in the early morning or late afternoon is best in terms of weather and crowds; make sure to pay extra to get into the Berber Museum, which is also on the property.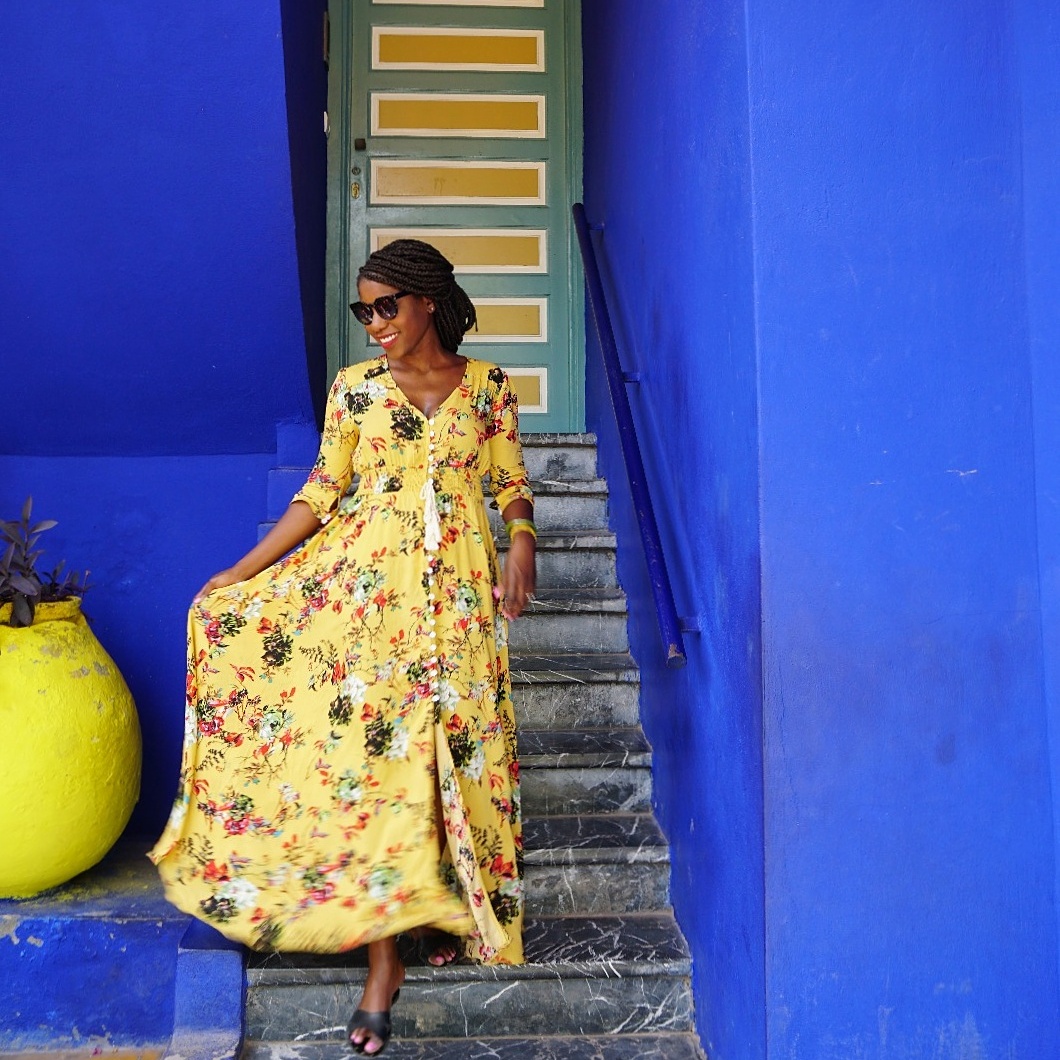 Spend a few hours at a traditional Moroccan hammam (bathhouse).  This was a great experience! Mom and I went to Les Bains de Marrakech, where we were steamed and scrubbed to perfection (more details on that soon!)  It's a local experience that's not to be missed, and one that's great value.  We only paid $20 USD per person and received a 45 minute body scrub. There even cheaper places but you may have to compromise cleanliness, privacy, and comfort.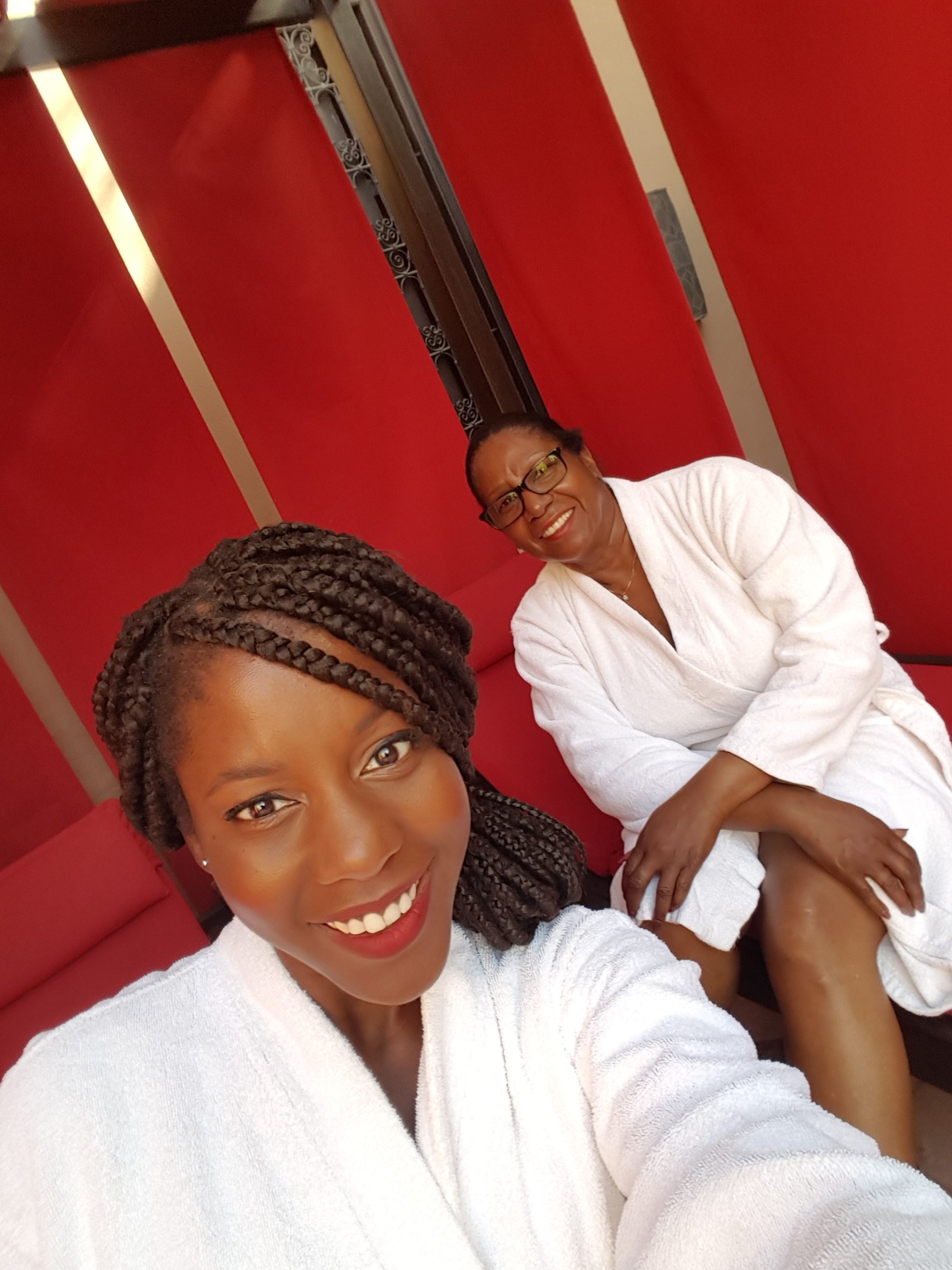 Visit Ben Youssef Madrasa.  An Islamic learning center for five centuries, the Ben Youssef Madrasa was renovated and reopened to the public as a historical site in 1962.  It's the largest in all of Morocco and walking distance from the Djemaa-al-Fna.  Go there to gain respite from the heat and appreciate the beautiful architecture!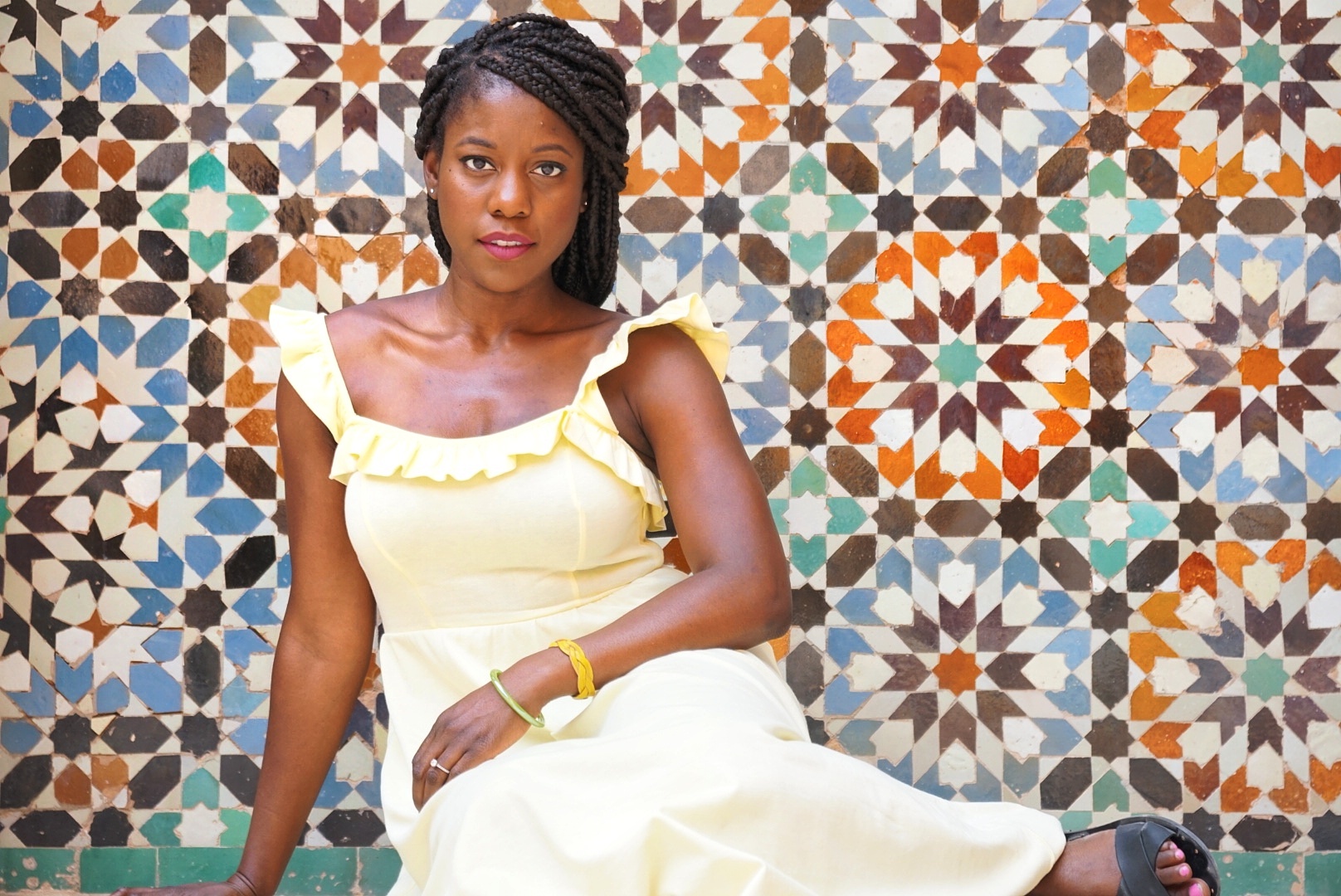 Splurge on a pool day pass at La Mamounia.  For about $50 USD/pp you can get a day pass at La Mamounia Hotel (one of the fanciest in Marrakech).  For this amount you are free to use the indoor and outdoor pools, as well as the jacuzzi.  An added touch is the complimentary ice cream we received poolside. We did this our last day in Marrakech and it was a great way to relax and unwind. There are other, more expensive packages but this one was fine for our needs.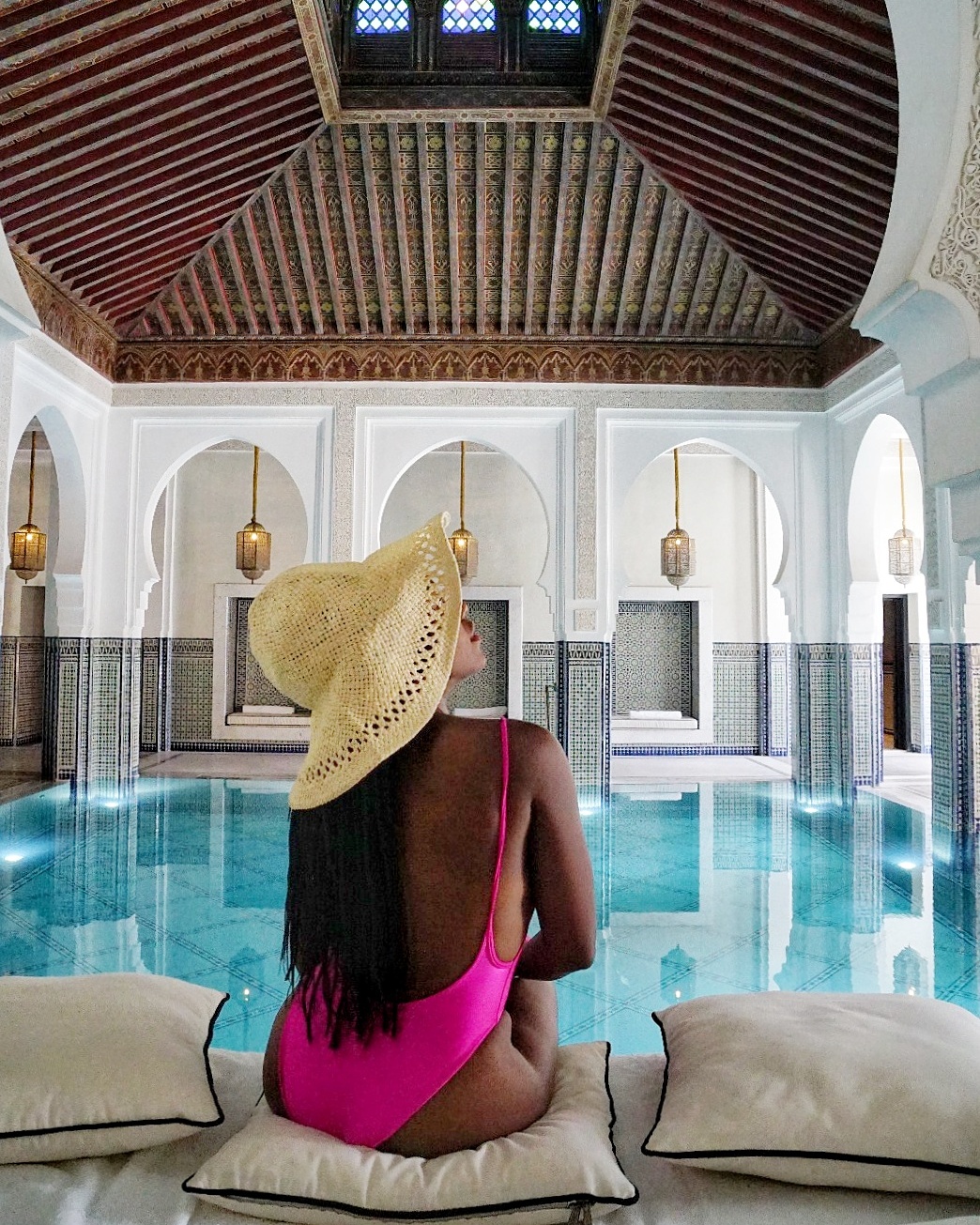 Where to eat in Marrakech
Comptoir Darna
The venue is a bit touristy and upmarket but it has a wide variety of Moroccan dishes. my mother and I got the prix fixe menu (for 2 ppl) which consisted of a 3 course meal with options. With beverages and tip worked out to about $120 usd total for our party of two.

Great venue, patient and attentive service, and a live bellydancing show (which is the primary reason to go).
Un Dejeuner a Marrakech
This was a simple, unpretentious was restaurant not far from where we were staying (close to Palais Bahia). It has a lovely rooftop and the food is decently priced.  They serve traditional Moroccan fare but also have a number of Western options.
Nomad
This restaurant is very modern and serves up Moroccan fusion cuisine. There aren't a huge range of dishes but they are all well plated/presented and the ingredients seemed extremely fresh.  I wasn't thrilled with the food, however (it was a tad bland).

The venue, though, is off the hook: we lounged on their stunning rooftop terrace and basked in the ambiance.  The location is also great– it's right off Djemaa-al-Fna's Spice Market.
Cafe de France
Great place to relax and have a cool drink right on the main square (great for people watching).  The venue, though a bit tired looking, had an old world charm.  People say the sunset from there is lovely but we went during the day.
Where to stay in Marrakech
Choosing accommodation in Marrakech can be overwhelming due to the sheer number of options.  After a lot of deliberation, however, I booked a room at the Riad Dar One: its location (walking distance from the main square), decor (the rooms are large and modern), and high ratings online made it the obvious choice for me.  My mom and I paid about $85 USD a night and felt like princesses!  The breakfast, along with the incredibly attentive service, were highlights.
Other Marrakesh activities you should consider
We missed out on the following due to the hot weather and lack of time.  Here's what we didn't do but wished we did.
Day trip outside of Marrakesh.

 We should have gone to the Atlas Mountains and/or Ouarzazate.  However, we were so busy we simply didn't have time.  

Horse-drawn carriage ride.

 It was too hot for us to do it during the day (people *did* tell us we were crazy for travelling to Morocco in July), and at night we were too busy doing other things.  Next time I'll be sure to add it to my list.
Moroccan cooking class

.  We ran out of time! But it was definitely an interesting option.

Visit to Bahia Palace and Kotoubia Mosque.

 They were so nearby to where we were staying but alas, we never made it.  From pictures, they don't look that spectacular, but if you have time you might as well go.
How to get around Marrakech
Taxi. While I prefer getting around on foot, it was so hot that we had to flex with the taxi.  However, beware! They are SUPPOSED to have meters but nobody ever used them.  As such, we always agreed on a price before hopping in.  
Here's a tip: before hailing a cab, ask a local around how much it should cost so you know if you're getting fleeced by the driver or not. In most instances I asked the staff  at my hotel. For most rides around town we paid around 20-30 dirhams ($2-3 USD).
Is Marrakech safe?  What should I wear in Morocco?
I got a lot of private messages asking me about safety in Marrakech (and in Morocco in general), particularly as female traveller of colour.  Personally,  in my three visits to Morocco, I never once felt unsafe, even though I definitely got a lot of attention (mostly because of my skin colour) and catcalls in the streets.
My tip, as always, is to educate yourself, try to blend in with the local population (by adhering to local dress code and customs– click here to see my post on what to wear when travelling in Islamic countries).  I would also advise you to exercise caution and keep a level head wherever you find yourself in the world!
Pin this post on PINTEREST!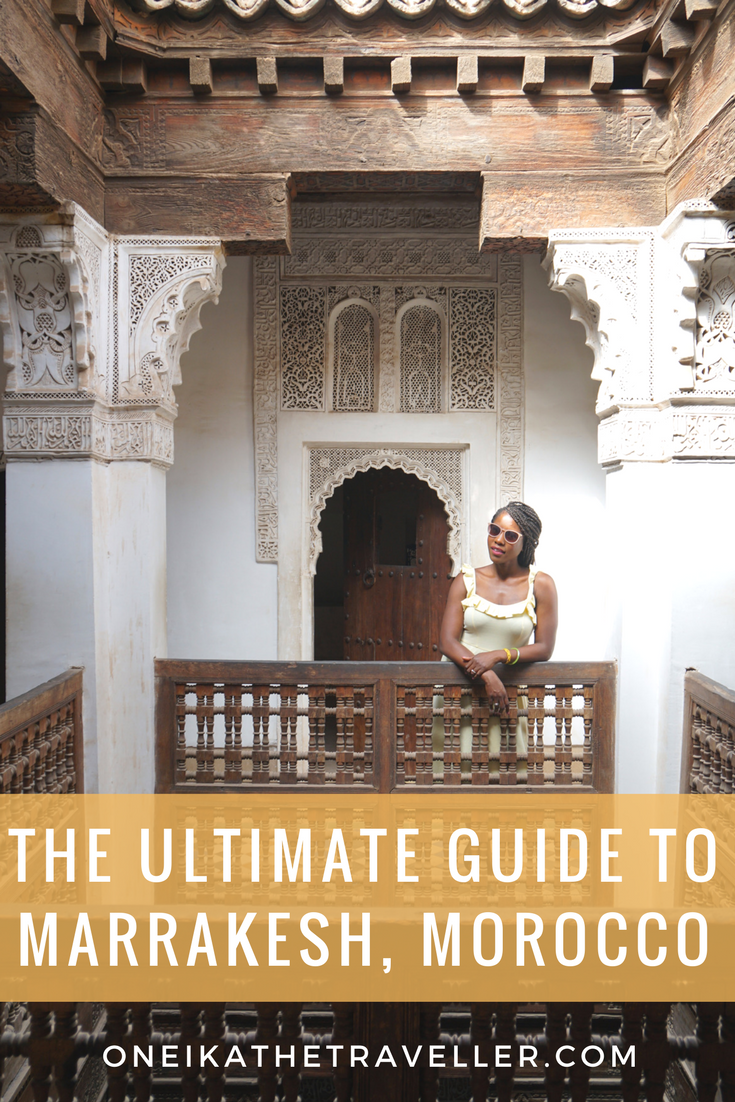 Other essential tips for Marrakech
+ Stay hydrated.  My mom and I travelled to Morocco during the hottest months of the year! Drinking water was available for sale everywhere in Marrakesh so we made it a point to purchase frequently.
+Don't worry about getting money.  I never get local currency (the Moroccan dirham) before arriving in a country and Morocco was no exception.  There were ATMs everywhere and every vendor/restaurant we went to accepted credit cards.  For reference, 10 Moroccan dirhams (MAD) is roughy equivalent to  1 U.S. dollar.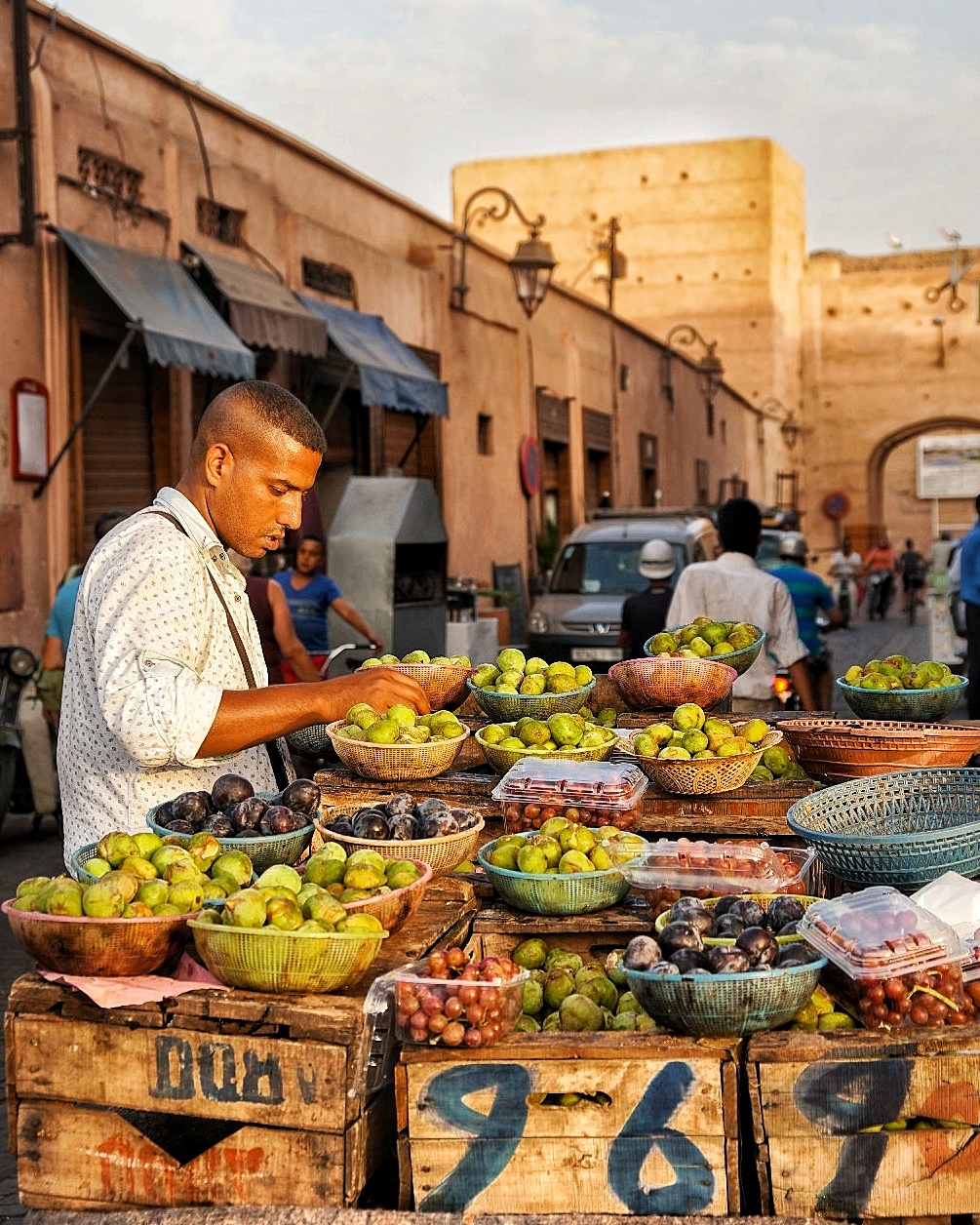 +Learn a few words in the local language (or French).  While getting around with only English is fine, I found that I was able to connect better with local people using my French  (especially when bargaining in the market).  Locals were also delighted when I tossed around the few words of Arabic I know.  Words like Marhaba (welcome/hello) and Shukran (thank you) are easily enough to pronounce and remember so use them!
The takeaway: Marrakesh is magical and you should go!
I travel a lot and few cities light a fire in me like Marrakesh did.  Something about the city makes me feel happy and alive– I have no doubt in my mind that I'll head back for a fourth visit!
Have you ever spent time in Marrakesh/Marrakech or Morocco?  If not, would you be interested in going?
Make sure to share this post with all your friends!