You're a girl.  You're travelling to Egypt.  How should you dress?  A few of my suggestions on what to wear in Egypt follow.
Packing for my trip to Egypt required a bit of forethought and organization for a few reasons.
Firstly, and perhaps most obviously, women are expected to dress more conservatively in Egypt than in the Western world. No skimpy singlets, captivating cleavage, or sky-high booty shorts to show off one's bodaciousness allowed, at least if you want to demonstrate a modicum of cultural sensitivity and awareness.
PIN THIS POST ON PINTEREST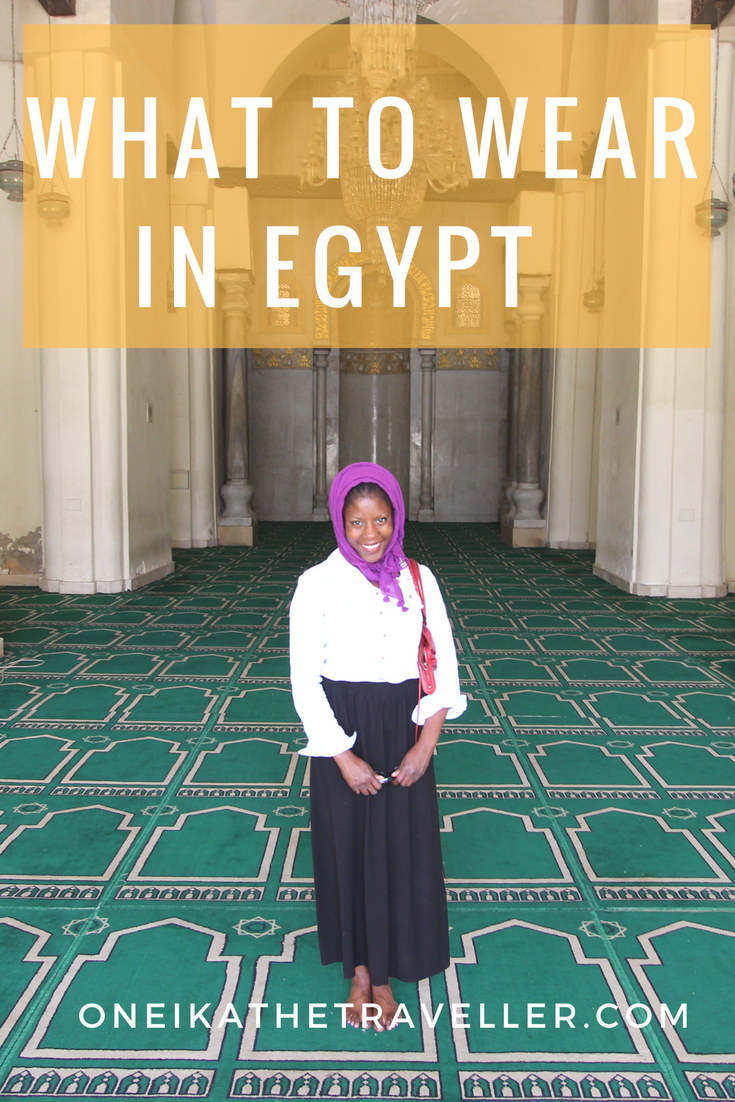 Secondly, our trip was scheduled for the end of March.  Though not summer, it is still quite hot at this time of year.  Not having the luxury of sporting a strapless sundress, I worried a bit about how I would remain conservative while keeping cool.
Thirdly, I knew we would be moving around a fair bit so I didn't want my bags to be heavy.
With this in mind, I packed the clothes below. I've packed similarly for my trips to Dubai and Jordan, so luckily it didn't take me too long. My carry-on and backpack combined weighed in at a svelte 16 lbs (including my laptop, DSLR camera, two lenses, and makeup bag which aren't pictured):
As it turns out, I only wore about half of the clothes I brought (I didn't even TOUCH my tennis shoes or flip flops, argh!).  Below are the items I found most useful for a female tourist travelling to Egypt. (Incidentally, I purchased nearly all of these items at H&M, though this shouldn't be a surprise as I professed my love for the brand on the blog long ago.)
A long skirt and hat
I lived in the skirt above most days of the trip.  Easy to slip on and off, comfortable and flowy, bringing a skirt on a trip like this gives you options — pair the skirt above with a black top and you're got the equivalent of the LBD (the long black dress). As for the hat, I only have one thing to say: the sun in Egypt is intense.  I typically never wear sunscreen (bad of me, I know), so popping on this hat protected my noggin from getting fried.
Solid coloured t-shirts & a long-sleeved cardigan
When I travel, I stick to the basics. I tend to pack a lot of solid colours because they go with absolutely everything. In this case, these solid tees and tanks I brought were a great idea because I could wear them on their own or layer them.  Yes, in some instances I even wore the tanks by themselves — I found at a few of the tourist sites we went to it was acceptable to leave your shoulders uncovered.  As for the cardigan, it's the perfect, lightweight cover-up for when you enter a mosque, or at night when the temperature drops in the desert.
Cotton button down shirt w/long sleeves & scarf
As a rule, cotton shirts like this are loose, easy, and highly breathable — you're covered but can still remain cool. I turned up the collar so my neck wouldn't get decimated by the sun, and rolled up the sleeves when I felt myself getting hot.  With Egypt being a predominantly Islamic country, the scarf was a necessity for covering my hair.  While I don't think it's a must for tourists to wear a head covering at all times, I found it helped me blend in with the locals, especially in Cairo, which felt more conservative than Luxor or Aswan.
Zip- off utility pants and capris
Jeans would have been too hot for this time of year so I found the next best thing. Both the zip-offs and capris were highly functional: practical for exploring dusty tombs and climbing ancient ruins. They covered the knee so I could stay modest, and the material they're made from dries quickly so I was able to wash them between wears.
Comfy, lightweight shoes
We didn't do any hiking, but I knew I would at least need a comfortable walking shoe that could go with both pants and a skirt. I brought flip flops but didn't wear them because the terrain was too rugged for exposed feet, similarly I didn't wear the sneakers I brought because they were too heavy and made my feet sweat. These shoes were the happy medium: lightweight and practical. I dug these shoes out from the recesses of my closet and they were fantastic.  The fact that they are tan-coloured was an added benefit since Egypt is so dusty!
Ladies, have you ever travelled in Egypt or the Middle East?  What did you wear? What do you think of my suggestions?
Feeling this post? SHARE the love and PIN IT!