Booked for a Moroccan vacation but not sure what to pack clothing-wise? Here's my guide for what to wear in Morocco– so you're not only fashionable, but within dress code.
Are you a woman who's planning a trip to Morocco or thinking about it?  If so, congratulations– you'll have a fantastic time!  Morocco is so mystical, magical, and marvelous that I've been three times already and am mentally planning my fourth trip.  (Sidebar: be sure to check out my blog post on things to do in Marrakech— it's the ultimate guide for how to get your life in one of Morocco's most exciting cities!)
https://www.instagram.com/p/BWp2PrzHwWb/?taken-by=oneikatraveller
However, before you dash off to experience it for yourself, you should take a brief moment to consider what to wear in Morocco, an Islamic nation. It's no secret that the style of dress for women in Morocco is on the more conservative side; if you're a female Westerner, this dress code may be different from what you're used to back home.
Planning what to pack and what to wear in Morocco as a female traveller thus requires a bit more thought and effort, especially if you still want to express your personal style! But never fear!  Here are my suggestions for what to wear in Morocco– so you're not only comfortable and within dress code, but also fashionable.
For the ladies: What to Wear in Morocco
Covered knees, shoulders, and looser-fitting silhouettes are the standard for women in Morocco, so adhering to cultural clothing norms as a female travelling throughout the country is not only a sign of respect, but will help you to blend in more as you move around the country.
If you travel to Morocco in the summer as I've done, you'll have to balance this conservative style of dress with the excessive heat.  When I travelled to Marrakech with my mom in July, the temperatures were routinely over 100 degrees Fahrenheit (38 degrees Celcius) during the day!  Breathable fabrics are thus a must.  Here's a sampling of what I wore on my trip this past summer!
(Please note that this post includes links to exact or similar articles of clothing– so you can purchase if you're interested. Also note this post includes affiliate links!)
Long-sleeved maxi dresses
https://www.instagram.com/p/BWs2vb8n3mj/?taken-by=oneikatraveller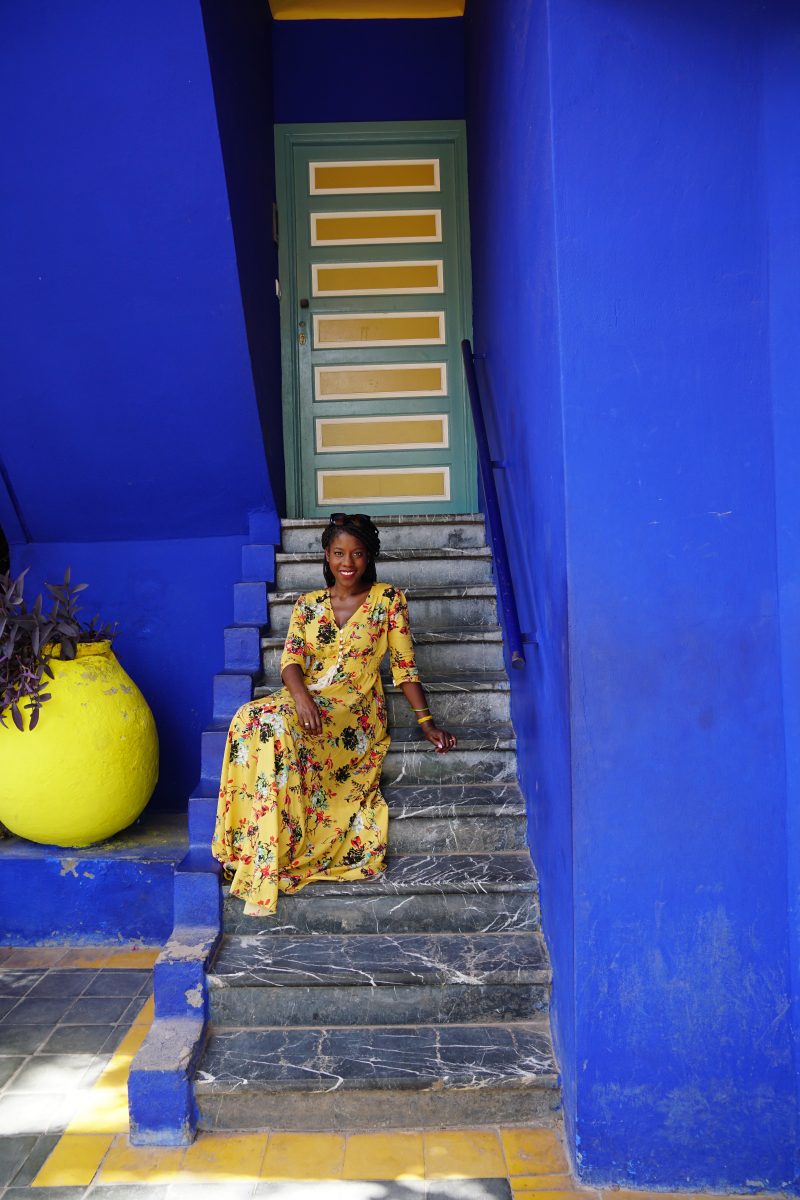 I'm a huge fan of maxi dresses in general because I find they are often easy to wear, culturally appropriate (as they cover the knees), and effortlessly stylish.  Given this, I was thrilled to find this gorgeous yellow dress on Amazon— it's now one of my favourite pieces of clothing I own!  It has a really flattering A-line silhouette that can be dressed up or down, and floral prints are all the rage this season.  Loads of people complimented me on it, with a few even asking me if it was a designer dress (which it isn't).
Long-sleeved blouses and culottes
This clothing combo is both comfortable, covered up enough, and stylish. I generally love wearing button down blouses like the one I have on above when I travel to countries where I'm required to dress conservatively.  I find that the lightweight fabric and loose fit result in a look that's both cute and breezy.
Cropped culottes are also a fave of mine!  Here's a wide legged patterned pair similar to the ones I'm rocking above; if a straighter cut is more your thing, here's a solid cropped pair similar to what my mom has on.
Kaftans or Djellabas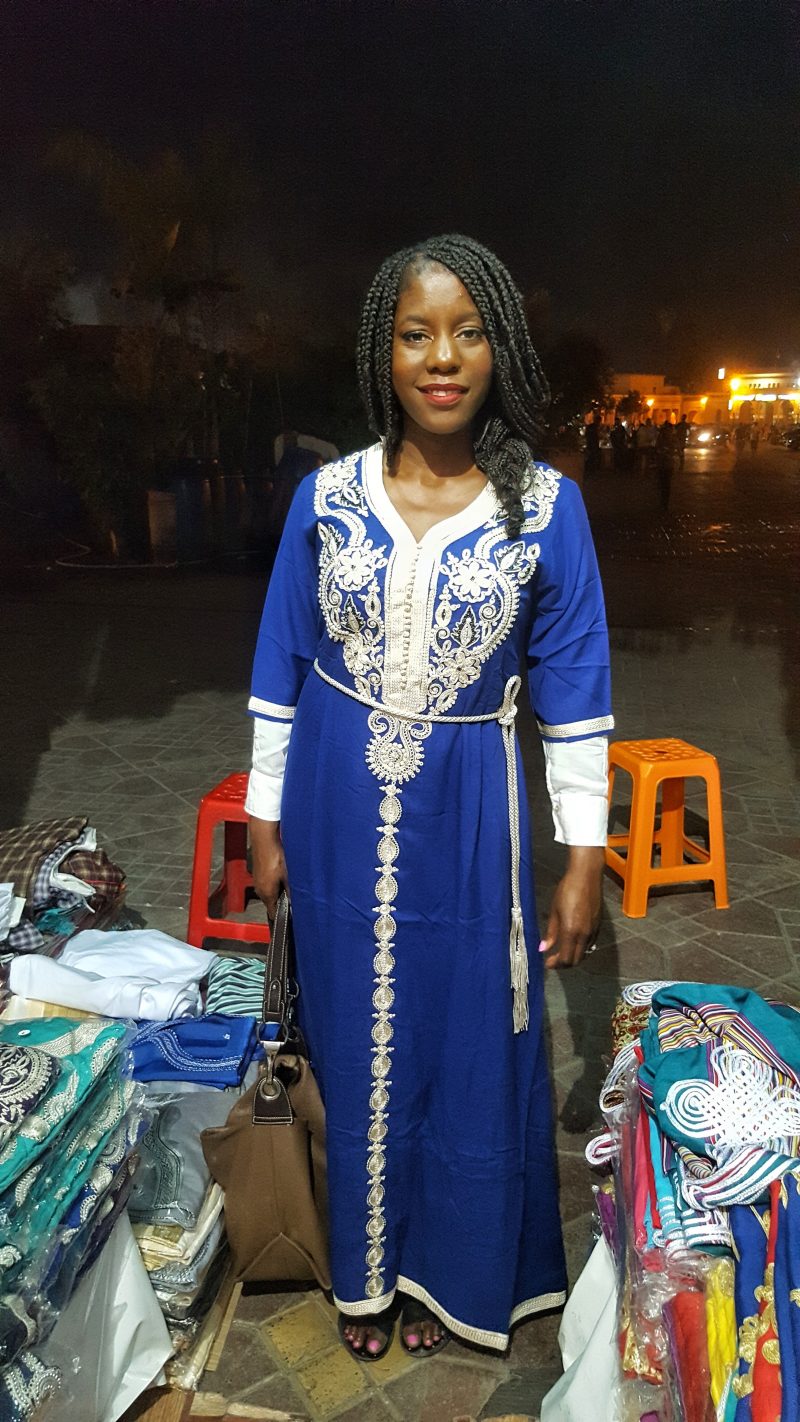 When in doubt about what to wear in Morocco as a female traveller, rocking local garb is always a great option!  Moroccan medinas are chock full of textiles for to put in your home or on your person, and shopping (for me!) is always an awesome cultural experience.  At any rate, I found this beautiful djellaba at a stall in Marrakech's Djema al Fna souk, and while I didn't end up purchasing it, bargaining with the vendor was fun in and of itself! However, if you prefer to do your shopping before hitting the medina, you can pick up a similar piece, like this one.  Kaftans like this are also amazingly chic!
Sleeveless maxi dresses (but pack a pashmina for your shoulders!)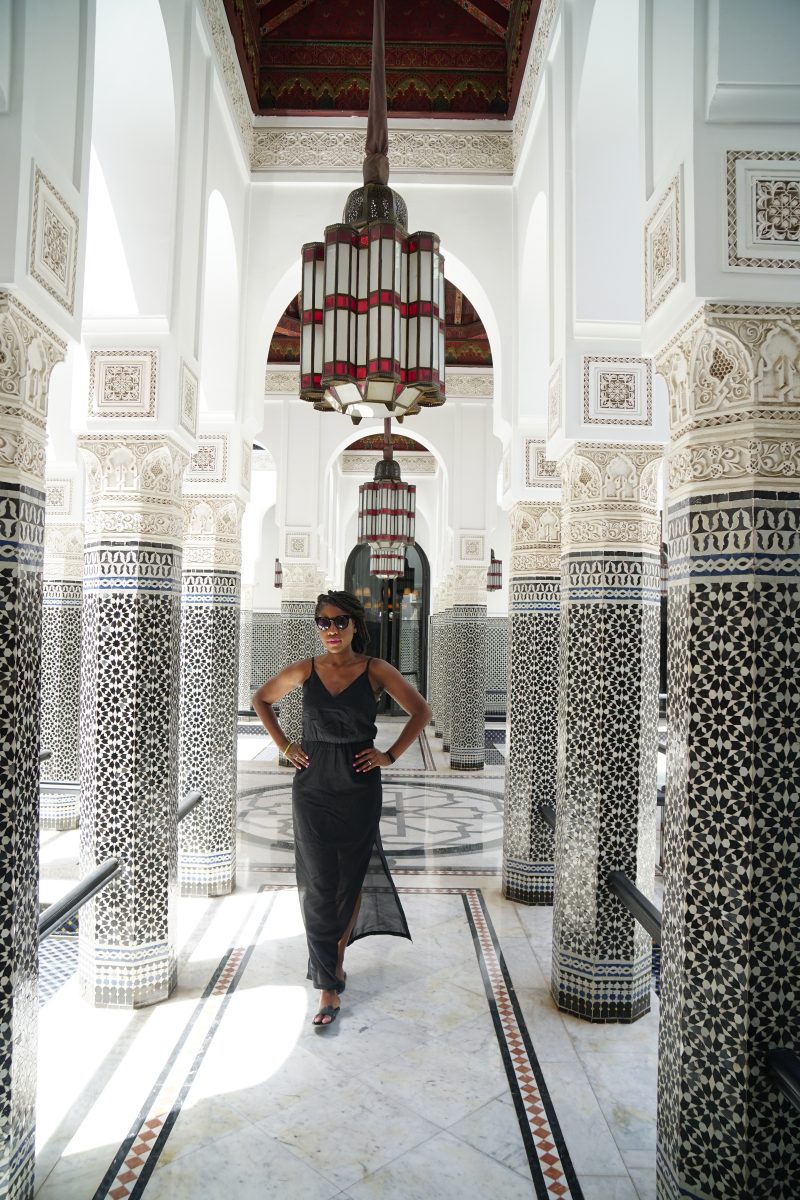 https://www.instagram.com/p/BWfymleB71G/?taken-by=oneikatraveller
While major cities like Marrakech don't seem to be as conservative, as a general rule, you should keep your shoulders covered your shoulders in public or densely populated areas in Morocco.  However, my wardrobe for this trip did include the sleeveless dresses you see above; while I bared my shoulders for these photos, I did make sure they were wrapped in a gauzy white pashmina while out and about. I picked both dresses up at H&M, but you can find similar styles here and here.
What to wear in Morocco: outerwear and accessories
A jean jacket and a pashmina scarf
While Morocco is blazing hot during the day most of the year, nights in the mountains, on the coast, or in the desert can be cool.  Furthermore, the over-zealous use of air conditioning inside some establishments can make your time indoors uncomfortable and chilly.  For this reason, a lightweight jean jacket and/or a pashmina can aid greatly.  I never leave home without them!
Floppy hats
A brimmed hat is a must for protecting your noggin from the merciless Moroccan heat.  While any kind of hat is suitable for wear in Morocco, I suggest a floppy hat similar to the ones my mom has on because they are easy to pack (the straw is soft and pliable) and they retain their shape even when folded.
Flat leather sandals
If you look at the pictures above you'll see that my flat black leather sandals were a staple throughout my trip to Morocco:  they were comfy, easy to slide on and off, breathable and could be dressed up or down!  Footwear is an important consideration, especially when you'll be walking loads through the medina.
A leather tote bag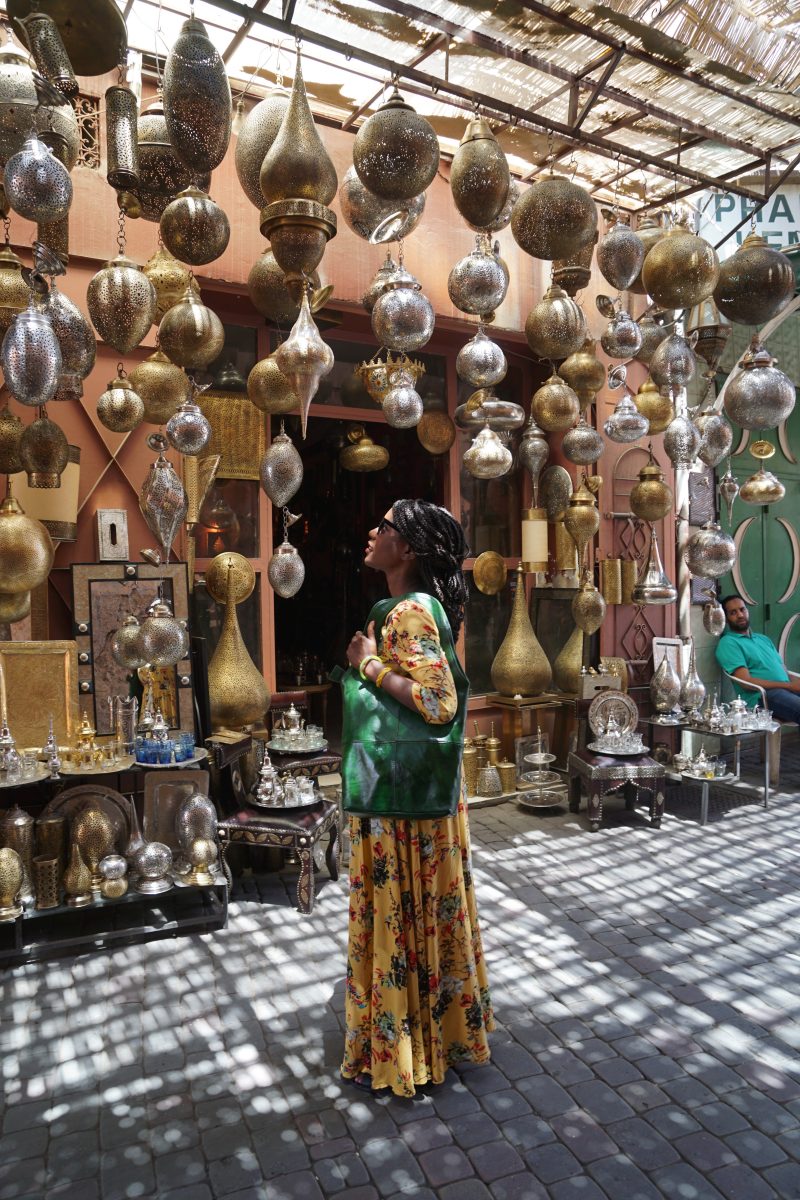 I don't know about you, but I tend to carry larger purses when I'm travelling: their size allows me to carry my camera, one or two camera lenses, my money/identification, pashmina scarf, and jacket.  I purchased the one in the picture in Marrakech (and looooove the colour), but you can find a similar one here.
Sunglasses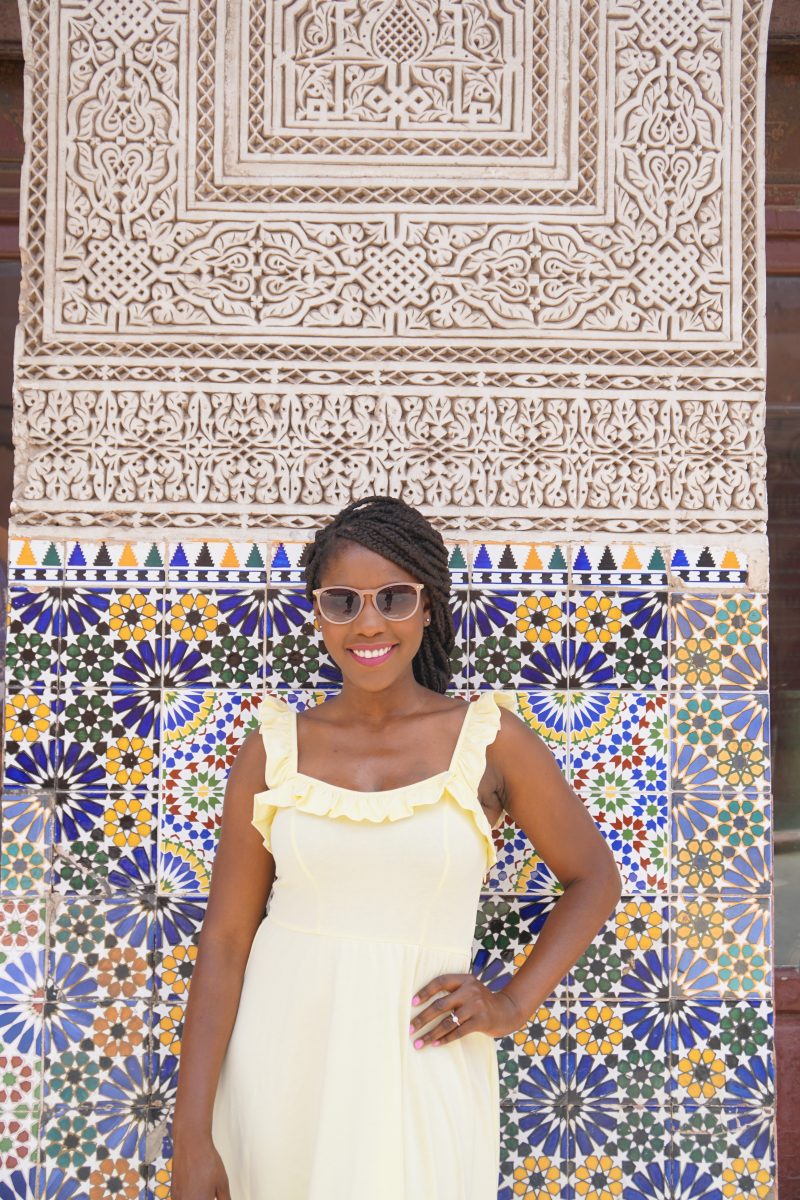 Protecting your peepers is always a good look!  I got the pair in the picture at Loft but they seem to have sold out;  this pair from H&M is similar and just as cute!
***
And thus concludes my suggestions for what to wear in Morocco as a female traveller!  Travelling to countries with a conservative dress code can be daunting, but I hope that the outfit ideas above have not only helped you with what to pack, but have also shown you can be culturally sensitive and stylish at the same time!
Have you ever been to Morocco or another conservative Muslim country?  What are some of your packing and clothing tips for the ladies?
Like this post?  Be sure to check out my suggestions for What to Wear in Egypt!
Pin this post on Pinterest!